Is it mandatory to wear FFP2 masks?
After the government's annoucements last Friday 22 January, a decree should be published soon regarding masks. This decree should ban the wearing of fabric masks in public spaces, allowing only FFP2 masks, surgical masks and category 1 industrial fabric masks.
Austria and Germany have already announced the obligation to wear FFP2 masks for people over 14 years old in transports, in workplaces, in stores or for medical appointments.
Differences between FFP2 masks, surgical masks and fabric masks
Different characteristics of respiratory protection available on the market: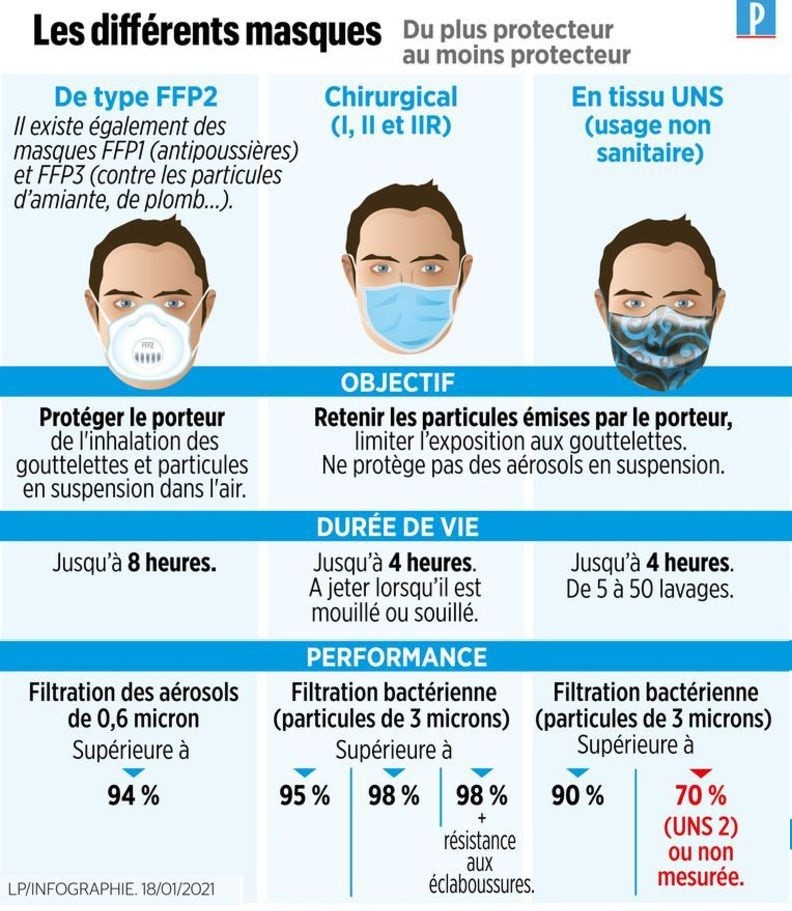 source : https://www.leparisien.fr/societe/variants-du-covid-19-le-port-du-masque-ffp2-desormais-obligatoire-en-autriche-25-01-2021-8421107.php
| | |
| --- | --- |
| Surgical half masks type 1 ou 2 | Single use, protect against droplets. |
| Half mask FFP1,  FFP2 or FFP3 | Disposable half masks for respiratory protection. FFP1: protects against dust or aerosols without specific toxicity. FFP2: protects against dust or aerosols of moderate toxicity. FFP3: protects against dust or toxic aerosols. |
| Half mask with two filter discs | Not disposable, must be used with filters. With double filtration, the breathing is facilitated. Can be used with P3 or A1B1E1P3 filters depending on the area of application. |
| Panoramic mask | The face is completely protect, the working comfort is maximal. Also used with P3 or A2B2P3R cartridges (the R means that the cartridge is reusable) depending on the area of application. |
| Assisted ventilation | Assisted ventilation is the best way to combine comfort and cost efficiency. Used to protect against chemical products, it also provides a full protection for the face. |
FFP2 molded mask or FFP2 folding mask?
FFP2 molded mask:
Complies with French legislation – Complies with the next general requirements of Council Directive 89/686 CEE.
Preformed upper part close to the nasal area which allows you a quick and easy fit, extremely efficient and safe.
Heat molded shell: semi-rigid mask, the form of the mask is maintained over time.
FFP2 folding mask with valve:
Easy and efficient breathing.
Improves head and humid air inside the mask and extends the wearing time of the mask without interruption.
FFP2 filtering half mask mostly made up of the face part in filtering material and accessories – such as headbands or respiratory valve (depending on the model). When the air is inhaled, it passes through the filtering material where it is cleaned before being inhaled. Exhaled air passes through the filtering material (in the masks without valve) or through two respiratory valves and the fitlering material (models with valve). The mask should be tight to the user's face.
Norms EN 149:2001 + A1:2009  CE1437
FFP2 ORDER FFP2 MASKS ONLINE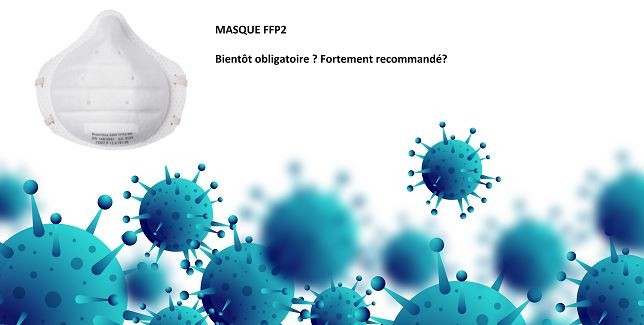 Other respiratory protection
Half mask with filters
Adaptable headband, double filtration for easier breathing. A large sealing skirt made of flexible anti-allergenic material designed to prevent leaks and fits perfectly the form of the face.
Panoramic mask
Maximum comfort thanks to its pig nose, silicone interior, robust anti-fog and anti-scratch polycarbonate visor. Resistant to solvents, fixed with 5 adjustable straps. A2B2P3R cartridge is reusable, thanks to its protective cap.
Assisted ventilation
Ideal for working in polluted and confined areas. With a permanent air supply for a better comfort (adaptable flow rate from 120 to 235L/min). Can be used with 3 cartridges (not supplied). Battery operated fan, up to 10 hours autonomy. Charging time about 3 hours. Delivered in a case with a hose, lithium-ion battery and charger. Electronic system, color screen with airflow indicator. Fits on panoramic mask or hood. Comfort belt with reinforced support.
A new INRS document gathers and summerises the main masks uses proposed for the prevention of COVID-19 transmission: HERE.
Washable coveralls: high protection and very low cost
Made of microporous PU coated nylon for better comfort (technial, flexible and breathable tissu). Machine washable, waterproof and chemical resistant (taped seams). Integrated hood.
Gloves: a thorough selection according to your types of work sites